Pool Cleaning Services
Home

/

Pool Cleaning Services
Windermere Pool Services has been cleaning pools every week in West Orange and South East Lake Counties since 1987. By our reckoning, we figure that we have performed somewhere in the region of 300,000 individual pool cleaning trips during that time. That's a whole lot of pool cleaning experience! We know what we need to do on a weekly, monthly and annual basis to give you the very best pool experience possible. What's more, our pool technicians understand that the satisfaction of our customers is their number one priority and that if ever a customer is unhappy with the standard of their pool cleaning the technician will be sent back every day until the customer is completely satisfied.

Full-Service Pool Maintenance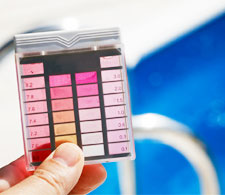 Your pool technician will come to the pool every week, check and adjust the chemistry, check and, if needed, empty the skimmer and pump baskets, brush the water-line tile, skim the surface of the pool and vacuum the whole pool/spa/fountain. On a monthly basis (or more often if the pool dictates) they will clean your pool filter.
At the end of their service, they will leave you a card with your chemical readings, advice as to whether it is safe to swim and details of action that they wish you to take or concerns that they have about your pool equipment.

Chemical/clean Service
Your pool technician will carry out all of the above services EXCEPT vacuuming. This service level is designed for those customers who have a robotic pool cleaner in the pool, or whose pool has an automatic floor cleaning system or who feel that their pool simply does not require a weekly vacuum.

New Swimming Pool Owners
We are regularly asked by new residents if there is a minimum service period and the answer is no. If you have just moved to the area, you probably have a zillion and one things to do, getting settled into a new job, enrolling the kids in school, setting up household services etc. you may want to get a pool service for a couple of months until you can get settled and then take it on yourself (or better still have junior do it to earn his allowance). We have no minimum service period and will even pro-rate your first and last service months. Of course, we hope that you will love us so much that you choose to never leave and some of our 'short-term' customers are with us years after they settled in but you are under no obligation or pressure to continue on service when you feel able to clean and take care of the pool water chemistry without us.

Pool Clean-Ups (from green to clean!)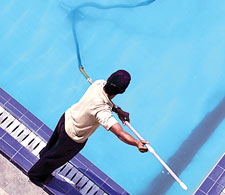 There is a multitude of reasons why pools turn green, but turning them blue again is our specialty. We carry a huge variety of different chemicals to aid this process and mobile pumps that speed up the time it takes to get from green to clean. We can even turn the pool blue again when there is no power at the pool, perfect for realtors working with foreclosed homes. Every pool is different so call us to schedule an estimate of the costs involved.
When asking us for an estimate please be aware that our monthly service charges do not change during the different pool seasons so the price given to you will be a "year-round" figure. If you wish us to service the pool during the summer season only you will pay a higher monthly charge than we normally quote.
Before and After Photos
Click and slide the blue slider to compare the before and after images.
Before and After Photos
Click and slide the blue slider to compare the before and after images.